Bank Transfer or ATM Transfer to the bank account detail as below:
For US Based Customers:
Please transfer service fee or make direct deposit to our US bank account below.
Bank Name
Acct. Type
Routing Number
Acct. Number
Online Payment
Bangkok Bank
Savings
026008691
157-466-0625
iBanking
Remark: After payment completed, please let us know via Payment Confirmation Form "Click here"
Paypal Payment/ Credit Card Payment via Paypal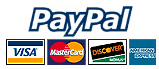 If you select Paypal payment method, you will be transfered to Paypal website to make payment. Once payment completed, you can use our hosting & domain service immediately.
Remark:
After payment completed, PayPal will automatically notify us your payment.
Paypal system will calculate the exchange rate from THB to USD automatically.